DEL

Medical OTC12D
Sophisticated Synchronization Functions Make System Operation Even Easier
The auto-positioning feature is interlocked with the APRs. This function moves the ceiling-mounted X-ray tube support to any desired position at the press of a single button and can automatically set the X-ray tube angle. Effortless tube positioning allows the operator to focus on patient care. Naturally, manual operation is also possible to make fine positioning corrections extremely simple.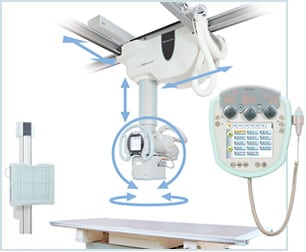 Next-Generation Collimator Reduces X-Ray Dose to the Patients
When the APR is selected for the region being imaged, the collimator filter also switches. Using the filter preset for each APR, such as the extremities or abdomen, minimizes unnecessary exposure to obtain high-quality radiographic images at the optimal X-ray dose. Built-in Area Dosimeter or Calculated Dosimeter* is available (option).
Request Quote
Product Features
OTC12 Overhead Tube Mount:
32.7in (830mm)
Vertical telescope travel range: 70.8in (1800mm)
Longitudinal travel range -with standard rail: 137.8in (3500mm)
Longitudinal travel range-with optional rail extensions: 222.2in (5645mm)
Longitudinal travel range-detent positions: configurable during installation
Transverse travel range with standard 9.8ft (3m) rail 84.6in (2150mm)
Transverse travel range with optional 13.1ft (4m) rail: 137.8in (3500mm)
Transverse travel range detent positions: configurable during installation
Transverse track length, standard: 119.3in (3030mm) ±.39in (10mm)
Transverse track length with optional rail extension: 172in (4380mm) ±.39in (10mm)
Tube rotation range, horizontal axis: -120°, +120°
– detent positions: -90°,0°, +90°
Tube rotation range, vertical axis: +182°, -154°
– detent positions: +180°, -90°, 0°, +90°
Maximum installation height: 
Touchscreen interface: SID and horizontal tube rotation (Generator control on OTC12S suite only)
EV800 Elevating Table:
Load capacity: 800lb (363kg)
Base length: 53in (1346mm)
Base width: 25in (635mm)
Top length, standard: 86.5in (2197mm)
optional: 78in (1981mm)
Top width, standard: 31.9in (810mm)
optional: 35.9in (912mm)
Table weight: 563lb (256kg)
VS300 Vertical Wall Stand:
Height: 84in (2134mm)
Depth: 13.4in (340mm)
Width (with receptor): 24.6in (625mm)
OTC12 Overhead Tube Mount:
32.7in (830mm)
Vertical telescope travel range: 70.8in (1800mm)
Longitudinal travel range -with standard rail: 137.8in (3500mm)
Longitudinal travel range-with optional rail extensions: 222.2in (5645mm)
Longitudinal travel range-detent positions: configurable during installation
Transverse travel range with standard 9.8ft (3m) rail 84.6in (2150mm)
Transverse travel range with optional 13.1ft (4m) rail: 137.8in (3500mm)
Transverse travel range detent positions: configurable during installation
Transverse track length, standard: 119.3in (3030mm) ±.39in (10mm)
Transverse track length with optional rail extension: 172in (4380mm) ±.39in (10mm)
Tube rotation range, horizontal axis: -120°, +120°
– detent positions: -90°,0°, +90°
Tube rotation range, vertical axis: +182°, -154°
– detent positions: +180°, -90°, 0°, +90°
Maximum installation height: 
Touchscreen interface: SID and horizontal tube rotation (Generator control on OTC12S suite only)
EV800 Elevating Table:
Load capacity: 800lb (363kg)
Base length: 53in (1346mm)
Base width: 25in (635mm)
Top length, standard: 86.5in (2197mm)
optional: 78in (1981mm)
Top width, standard: 31.9in (810mm)
optional: 35.9in (912mm)
Table weight: 563lb (256kg)
VS300 Vertical Wall Stand:
Height: 84in (2134mm)
Depth: 13.4in (340mm)
Width (with receptor): 24.6in (625mm)